All New Steel 1967, 1968 & 1969 Camaro Bodies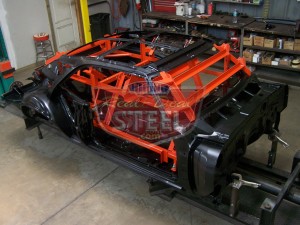 Real Deal Steel, LLC now offers the all-new steel 1967, 1968 & 1969 Camaro body skeletons – Real Deal Steel, known throughout the industry for their high-quality USA assembled 1955-57 Chevy bodies and their 1940 Ford Coupe bodies now offers USA built/GM licensed 1967-69 Camaro body skeletons. Real Deal began with a rust-free no-hit original '69 Camaro Coupe body and painstakingly built their own assembly platform and fixtures in their Florida assembly plant in order to produce an exact copy of the original. The new skeleton is fully spot welded together, just like the original for maximum strength and correctness. Real Deal's new body is available as the skeleton only or partially to fully skinned using panels from Auto Metal Direct (AMD). AMD panels are used exclusively as they are known for having the best fitting, true-to-original 18 gauge steel panels on the market.
1967, 1968 & 1969 Camaro Body Skeleton Options:

MAP Retail
Coupe with stock heater firewall
$9000
Coupe with heater delete firewall
$9000
Coupe with factory AC firewall
$9000
Factory mini tubs (allows use of 11" wide wheel and 13" wide tire)
$1000
1969 Camaro Body Skin Options: (skinned exclusively with AMD panels)
Drip rails and top skin installed
$900
Quarter panels installed
$1600
Doors, door hinges & deck lid installed
$1500
Complete Shell Price:

$13000
Complete Shell with Mini Tubs Price:

$14000
Reader Comments (0)
Post Comment
You must login to post comments.